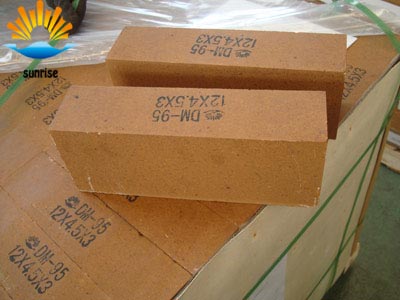 Feature:
Specifications

1.Fused Magnesia Brick Refractory
2.CCS:60mpa,RUL:1700
3.Good erosion resistance
4.High quality
5.Reasonable price

Fused Magnesia Brick Features:

Excellent performance of basic slag resistance, high refractoriness, thermal stability, anti-erosion and anti-peeling
Excellent strength of pressure bending, abrasion proof
Excellent performance of high-temperature firing, high rates of associative property, anti-erosion ability
Excellent thermal shock resistance and spalling resistance
Excellent ability of high refractoriness, anti-erosion of alkaline residue;
High temperature load of refractoriness under load. High mechanical strength
High temperature resistance excellent corrosion resistance
Resistance to spalling

The products are fused magnesia as main raw material, after a reasonable size distribution, high pressure forming, high-temperature sintering. The product has strong resistance to slag corrosion ability and high temperature dimensional stability. Mainly used in glass furnace regenerator, the upper part.

Application:

it is mainly applied to the regenerators of glass kilns and other high temperature glass furnaces.
Technical Data:
Item
Behaviors
Fused Magnesia Brick
DMZ-95
DMZ-96
DMZ-97
DMZ-98
Chemical composition
MgO %
≥95
≥96
≥97
≥97.5
SiO2 %
≤1.5
≤1.2
≤1.0
≤0.5
CaO %
≤1.5
≤1.2
≤1.2
≤0.6
Apparent Porosity %
≤18
≤18
≤17
≤15
Cold Crushing Strength Mpa
≥55
≥60
≥60
≥60
0.2Mpa Refractoriness Under Load T0.6
≥1650
≥1680
≥1700
≥1700
Bulk Density g/cm3
≥2.95
≥3.0
≥3.05
≥3.05
Thermal Stability 950℃ Wind cycles
≥15
≥20
≥20
≥20
Inquiry:
If you have any questions or good suggestions on our products and site, or if you want to know more information about our products, please write them and send to us, a representative will contact you within one business day. We guarantee that your information will not be divulged to the third party.