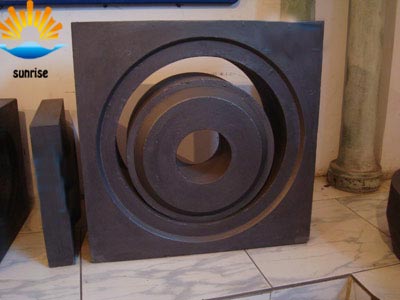 Feature:
Specifications

♦ Mg-C brick has high refractoriess
♦ high basic slag resistance
♦ good thermal conductivity
♦ Magnesia Carbon brick is resin-bonded brick made from dead-burned or fused magnesia and graphite. Anti-oxidant is added if required. Magnesia Carbon brick has good performance in thermal resistance, corrosion resistance and spalling resistance. Widely used in converters, EAFs, ladles and refining furnaces.
♦ Magnesia Carbon bricks a very mature product in our area. As our area has 1/4 world storage of best quality Magnesia ore, we can provide as good quality as European Mg-C bricks with competitive prices. We also provide basic refractory lining solution for CONVERTER, EAF, LF, LADLE, etc. these industrial furnaces.
Technical Data:
Item
TY-MC8
TY-MC10
TY-MC12
TY-MC14
TY-MC18
apparent
porosity%≤
5.0
4.0
4.0
3.0
3.0
volumo
density g/cm3≥
3.00
3.00
2.98
2.95
2.92
cold
crushing
strength MPa≥
50
40
40
35
35
chemical
composition%
Mgo,≥
84
82
76
76
72
C,≥
8
10
12
14
18
application
general use
corrosion resistance
Extra Corrosion Resistance
Inquiry:
If you have any questions or good suggestions on our products and site, or if you want to know more information about our products, please write them and send to us, a representative will contact you within one business day. We guarantee that your information will not be divulged to the third party.