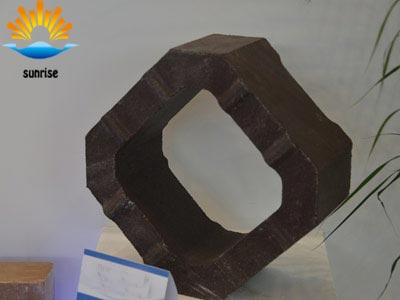 Feature:
Description:

♦ High strength
♦ Corrosion resistance
♦ Erosion resistance
♦ Excellent slag resistance
♦ Good thermal shock stability

It is made with sintered magnesia and refractory level chrome ore as raw materials. The space between refractory grains is bonded with silicate. The domestic so called magnesia –Chrome bricks .

The refractoriness of magnesia chrome bricks are more than 2000℃,and the refractory under load is a above 1550℃.Good steady volume in high temperature , the performance of meeting sudden cold and sudden hot is better than magnesia bricks
Technical Data:

Item
Behaviors
Magnesia Chrome Bricks
TY-DMC-40
TY-DMC-20
TY-DMC-12
TY-DMC-8
Chemical composition
MgO %
35
60
70
70
SiO2 %
1.0
1.0
2.0
2.0
Cr2O3 %
40
20
12
8
Apparent Porosity %
16
16
18
18
Cold Crushing Strength Mpa
40
40
40
40
0.2Mpa Refractoriness Under Load T0.6
1700
1700
1650
1650
Bulk Density g/cm3
3.3
3.15
3.05
3.0

Inquiry:
If you have any questions or good suggestions on our products and site, or if you want to know more information about our products, please write them and send to us, a representative will contact you within one business day. We guarantee that your information will not be divulged to the third party.