Production Process Of Magnesia Brick
Date:
2015-08-25 19:12
From:
Zhengzhou Sunrise Refractory
Author:
admin
Magnesia brick is one kind of alkali refractory which is generally produced by sintered method. Below is the specific step for your reference.
1. Raw material's mixing. Match all the raw material of magnesia brick according to reasonable scale, then mix them with wheel mill which can make the mud material with better quality, Because rotation and pressure of wheel mill on the mud have the effect of rolling compaction, pre scheduling and pre compaction.
2. Style forming. Magnesia brick is formed by using high pressure machine, and forming magnesia brick always goes through two working procedures which firstly use 200kg/m3's low pressure to make the rough brick and secondly use more than 800kg/cm3 high pressure again to make dense brick. This can not only keep the shape of brick, but also increase the density of the brick.
3. Dry. During the drying process of magnesia brick, the physical and chemical changes contain two processes which are water evaporation and brucite hydration.
4. Sintering: The firing process is the main process during the manufacturing process of magnesia brick. Sintering of magnesia brick can be processed in pour flame kiln or tunnel kiln, when at high temperature, the binder has lost its role, so the stacking is not too high and generally around 0.8mm.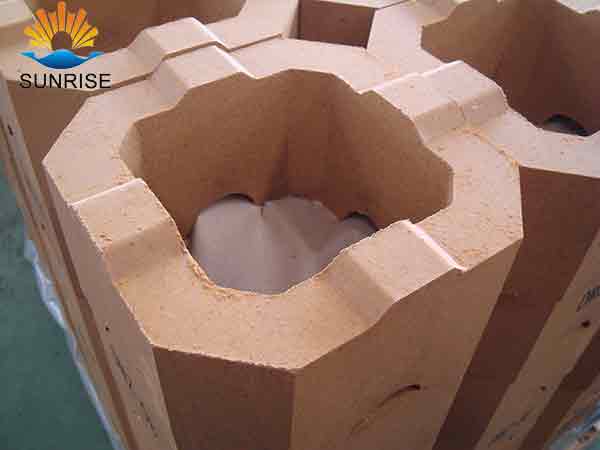 Appreciate for your visiting!
Zhengzhou Sunrise Refractory Co., Ltd. is a professional glass refractory manufacturer and mainly engaged in the research and development of glass refractory products. With reliable quality, competitive price and prompt delivery, Sunrise has established long-term business and cooperation relationship with many customers in different countries and regions. Zhengzhou Sunrise Refractory Co., Ltd can provide professional guidance for you and is sincerely looking forward to establishing a long-term mutually beneficial relationship with you.
Inquiry:
If you have any questions or good suggestions on our products and site, or if you want to know more information about our products, please write them and send to us, a representative will contact you within one business day. We guarantee that your information will not be divulged to the third party.