Basic knowledge of magnesium brick
Date:
2019-03-14 16:45
From:
Zhengzhou Sunrise Refractory
Author:
admin
Magnesia brick is an alkaline refractory material with magnesia content above 90% and periclase as the main crystal phase. Generally, it can be divided into two categories: sintered magnesia brick (also known as burnt magnesia brick) and chemically combined magnesia brick (also known as non-burned magnesia brick). Magnesia bricks with high purity and high firing temperature are called direct-bonded magnesia bricks because of the direct contact of the magnesite grains.
The bricks made of fused magnesia are called fused and recombined magnesia bricks. Large and medium-sized lime kiln such as rotary kiln, sleeve kiln and shaft kiln. Magnesia brick has the advantages of strong resistance to alkaline corrosion, strong anti-scour ability, good thermal stability, high compressive strength and high load softening temperature. The burnt magnesia brick is made of high-quality sintered magnesia as the main raw material, and the pulp is used as the binder. After kneading and high pressure molding, it is fired in a high temperature tunnel kiln at 1550 ° C or higher. Has good thermal stability, erosion resistance and flaking resistance. It is widely used in industrial furnaces such as converters and electric arc furnaces as lining refractory materials.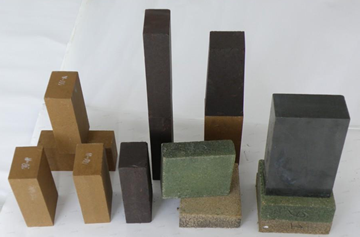 The fused magnesia brick has the advantages of compact brick structure, high mechanical strength and low impurity content. It is mainly used for heat storage dense refractory bricks of large glass kiln. The refractory material has certain shape and size. The unit volume and weight are large, indicating dense. Goodness, the strength may be high, also called the high temperature load to start the deformation temperature, called the reheating line change or the residual line change, refers to the change of volume expansion and contraction in the same temperature change each time, high temperature resistance, about 1800 degrees, load The softening temperature is 1620-1640, and the coefficient of thermal expansion is small.
Inquiry:
If you have any questions or good suggestions on our products and site, or if you want to know more information about our products, please write them and send to us, a representative will contact you within one business day. We guarantee that your information will not be divulged to the third party.