Mineral Of Refractory
Date:
2015-12-31 15:46
From:
Zhengzhou Sunrise Refractory
Author:
admin
1. Types of minerals in the refractory
The mineral refers to chemical elements or components with insure internal structure and physical properties which consist of relatively fixed chemical constituent. They are stable under a certain physical and chemical conditions. Refractory material is mineral component, and all of these minerals are solid crystal, most of which consists of composite oxide or its salts. Among them, part of mineral is single oxide with high melting point or other compounds which is a stable crystal, and the mineral is also composed of high melting point minerals with composite oxide. The main mineral contains aluminate, chromate, phosphate, silicate, titanate and zirconate. In addition, a lot of refractory materials have a small amount of amorphous glass phase, and only a handful of refractory material is entirely composed of amorphous glass.

2. The aggregation state of refractory minerals
At room temperature, refractory materials are composed of single-phase or multi-phase multi crystal or aggregate made of polycrystalline with glass phase. Many refractory materials contain pores. If the chemical composition of refractory material is same, and phase type, the nature, quantity, size and shape of the grains, distribution, and combined state of the presence of crystal and glass equal are different, the advantages and disadvantages of these refractory material properties may vary greatly. According to the properties of the constituent phases in the refractory materials, the proportion of the composition and the influence on the properties of the materials, the mineral can be divided into main crystal phase, secondary crystal phase and matrix.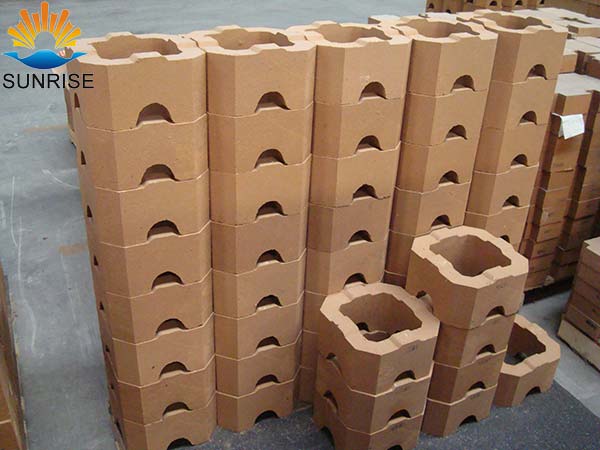 Zhengzhou Sunrise Refractory Co., Ltd. is mainly engaged in the research and development of glass refractory products. Sunrise as a professional glass refractory manufacturer can provide excellent products such as fused cast AZS block 33#,36#,41#, fused cast alumina block, silica brick, magnesia brick, zircon brick, corundum block, zircon mullite brick, mullite series brick, sillimanite brick, etc. which have passed the ISO international certified. With reliable quality, competitive price and prompt delivery, Sunrise has established long-term business and cooperation relationship with many customers in different countries and regions. Zhengzhou Sunrise Refractory Co., Ltd can provide professional guidance for you and is sincerely looking forward to establishing a long-term mutually beneficial relationship with you.
Inquiry:
If you have any questions or good suggestions on our products and site, or if you want to know more information about our products, please write them and send to us, a representative will contact you within one business day. We guarantee that your information will not be divulged to the third party.