Bond Directly Magnesia Chrome Brick
Date:
2016-03-07 11:07
From:
Zhengzhou Sunrise Refractory
Author:
admin
In large furnaces, the temperature is above 1700℃. The common
magnesia chrome brick
is not qualified. In order to adapt to production of the cement, Bond Directly Magnesia Chrome Brick is developed.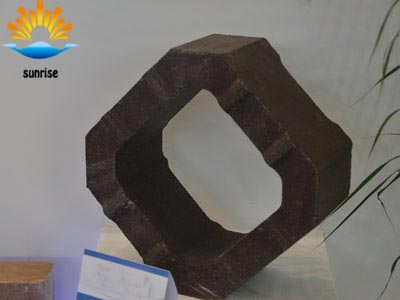 The main mineral components of the common magnesia chrome brick is periclase and magnesium spinel stone, surrounded by a silicate matrix. The silicate matrix is the part that is easy to be melted and corroded.
Bond Directly Magnesia Chrome Brick is mainly composed of periclase and spinel which is direct bonded. Although there is a small amount of silicate matrix phase, the direct binding rate is high. The high temperature properties of bricks are greatly improved.
The Bond Directly Magnesia Chrome Brick is made of quality magnesite and chromite ore as raw materials. The raw materials are first fired into light burned magnesia sand and pressed into balls according to a certain ratio. Then it is fired into dead burned magnesia sand at 1900℃ and a certain proportion of chromite ore is added. It is molded under pressure and fired in a tunnel kiln at 1750-1850℃.
The key to the production of Bond Directly Magnesia Chrome Brick is high-purity raw materials, high-pressure molding and high temperature calcination.
Inquiry:
If you have any questions or good suggestions on our products and site, or if you want to know more information about our products, please write them and send to us, a representative will contact you within one business day. We guarantee that your information will not be divulged to the third party.