Non-Burnt Magnesia Chrome Brick
Date:
2016-07-08 18:14
From:
Zhengzhou Sunrise Refractory
Author:
admin
Non-burnt
magnesia chrome brick
is made of magnesia sand and chrome ore with addition of binding agents by pressing. It is also called chemical bonded magnesia chrome bricks.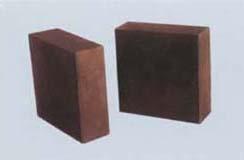 Its properties are up to the raw materials and binding agents. Compared to burnt bricks made of the same materials, its volume stability at high temperature is poor. After burnt, its structure and some properties may change and its strength may be weaker, but its thermal shock resistance is good.
Magnesia sand and chrome ore in different sizes are mixed in a certain proportion. Then an appropriate amount of chemical binding agents are added. Then the mixture is kneaded, molded, dried and processed at low temperature to obtain non-burnt magnesia chrome bricks. The common binding agents include water glass, sulphate, chloride, phosphate and polyphosphate.
Non-burnt magnesia chrome brick can be wrapped with iron or not. Bricks wrapped with iron are wrapped with a layer of iron. The iron is made into an iron box according to the size of the bricks. Then mud is poured into it and pressed into bricks by capping. Both the iron box and its cover have teeth. The teeth insert into the mud, so as to improve the bonding of the iron and the products. The iron may also have hooks, clips or inserts. The iron can be 0.5mm, 1.0mm, 1.6mm, 2.3mm or 3.2mm thick.
The non-burnt magnesia chrome bricks are suitable to the sidewall of steelmaking furnaces, the roof of open hearths, the firing zone of cement rotary kilns and other furnaces. Bricks wrapped with iron can improve the integrity and structural strength of the furnace by the sinering reaction between iron and magnesia sand. They can also be welded into together for ease of hanging and reducing chipping.
Inquiry:
If you have any questions or good suggestions on our products and site, or if you want to know more information about our products, please write them and send to us, a representative will contact you within one business day. We guarantee that your information will not be divulged to the third party.