What steps does Magnesia Chrome Brick masonry need?
Date:
2017-01-05 17:07
From:
Zhengzhou Sunrise Refractory
Author:
admin
According to the experience in producing
magnesia chrome brick
, in order to make the kiln lining material fully into effect, to ensure the kiln lining material life cycle, extend the service life of refractory brick, the company made the following provisions to refractory brick masonry:
1. Carefully clean the dust and slag of kiln shell inner wall.
2. The kiln shell should be smooth without rugged phenomenon.
3. The gray seam control is in 1.5mm ~ 2mm between brick and brick.
4. The cement daub should be uniform and full, do not have the phenomenon of lack of pulp. Evenly smear the cement, and use masonry to twist cement, make the cement squeezed out.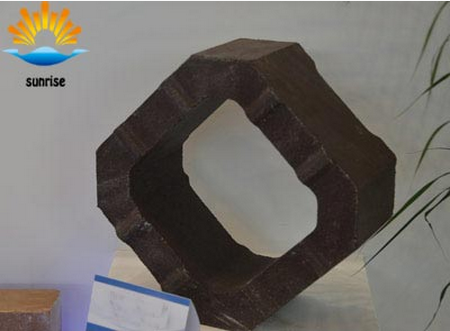 5. The masonry of the kiln lining need to be flat and can not have the wrong platform, should strive to avoid dislocation, tilt, uneven gray seam, From the medium, heavy seam, sewing, mouth, escapes, wool seam, serpentine, masonry bulge and slurry, etc.
6. The expansion joints in refractory lining, must be designed to leave, not omission.
7. The lining of important parts and complex parts should be pre-masonry.
8. The lock should be firmly. When processing refractory brick, needs to use cut brick machine to fine processing on brick, Shall not use the manual processing of brick, in the rotary kiln and the capping brick under plate brick should not be 70% less than the original brick, in the flat joints and bends brick, not less than 1/2 of the original brick. Must use the original brick to lock mouth. The processing surface brick should not be toward the inside of the furnace.
9. Refractory material must be stored in the dry warehouse.
Inquiry:
If you have any questions or good suggestions on our products and site, or if you want to know more information about our products, please write them and send to us, a representative will contact you within one business day. We guarantee that your information will not be divulged to the third party.