Magnesia chrome brick production process
Date:
2018-12-14 16:10
From:
Zhengzhou Sunrise Refractory
Author:
admin
The production process of firing magnesia-chrome bricks is similar to that of magnesia bricks. In order to eliminate the loose effect caused by the expansion of the brick during the firing process due to the reaction of MgO and Cr2O3, Al2O3 or iron oxides to form spinel, a synthetic co-sintered material can also be used to form the magnesia chrome brick. In addition, there are non-calcined magnesia chrome bricks, for example, non-calcined magnesia chrome bricks combined with an inorganic magnesium salt solution. The non-burned magnesia chrome brick has a simple production process, low cost and good thermal stability, but the high temperature strength is far less than that of the fired brick.
The brick is characterized by pure raw materials, high firing temperature, direct combination of high temperature phases such as periclite and spinel, and low-melting phase such as silicate is island-like distribution, thus significantly increasing the high temperature of the brick. Strength and slag resistance.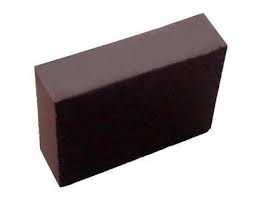 The method of preparing the fine powder prepared by calcining the calcined billet with chrome ore-magnesia sand and the coarse particles of magnesia is an effective measure for eliminating the loose effect. Compared with ordinary magnesia chrome bricks, the magnesia chrome bricks produced by this method have low porosity, high compressive strength, load softening temperature and flexural strength. Magnesia-chrome bricks made of chrome ore-magnesia powder compacts and high-temperature calcined synthetic magnesia-chrome sands are better than other magnesia-chrome bricks in slag resistance and high temperature strength.
In addition, there is a fused cast magnesia chrome brick obtained by directly casting a molten magnesia in an electric furnace, and the fused granules produced by the fused magnesia chrome material are combined with magnesium. Chrome bricks, etc.
Inquiry:
If you have any questions or good suggestions on our products and site, or if you want to know more information about our products, please write them and send to us, a representative will contact you within one business day. We guarantee that your information will not be divulged to the third party.