Sunrise Refractory Magnesia Carbon Brick
Date:
2018-12-27 11:39
From:
Zhengzhou Sunrise Refractory
Author:
admin
Magnesia carbon brick is a non-burning carbon composite refractory brick which is made of high-melting-point alkaline magnesium oxide and a high-melting-point carbon material which is hard to be eroded by slag, and is added with various non-oxide additives and combined with a carbon binder.
Magnesia carbon bricks are mainly used in converters, air-flow electric arc furnaces, linings of DC arc furnaces, and slag lines of ladle.
Physical and chemical properties of magnesia carbon brick
1. High temperature resistance
Magnesia carbon brick has good high temperature performance
2. Strong anti-slag ability
MGO itself has strong anti-corrosion ability to alkaline slag and high-iron slag. Graphite has a large wetting angle to slag and poor wettability with slag, so magnesium refractory has high slag resistance.
3. Good thermal shock resistance
4. High temperature creep is low
Sunrise's magnesia carbon brick can be used as a converter lining, which proves that this material is suitable for converter steelmaking; so far, converter steelmaking still uses a large amount of magnesia carbon bricks, and the application of magnesia carbon bricks reduces the consumption of refractory materials.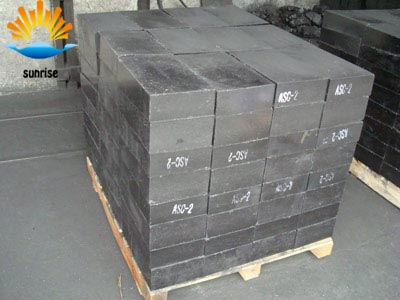 If not sure what refractory material or magnesia carbon bricks you need, please tell us your any requests on refractory material performance and specification & working temperature & working environment as well as application, according to your requirement, that we can recommend suitable refractory bricks, we can make sure that you can't disappointed.
Inquiry:
If you have any questions or good suggestions on our products and site, or if you want to know more information about our products, please write them and send to us, a representative will contact you within one business day. We guarantee that your information will not be divulged to the third party.