The Main Information of Magnesia - Chrome Bricks
Date:
2019-01-11 11:20
From:
Zhengzhou Sunrise Refractory
Author:
admin
Magnesia-chrome bricks are refractory products containing magnesium oxide (MgO) and chromium oxide (Cr2O3) as the main components, and periclase and spinel are the main mineral components. This type of brick has high refractoriness, high temperature strength, strong resistance to alkaline slag, excellent thermal stability, and certain adaptability to acidic slag. The main raw materials for the manufacture of magnesia chrome bricks are sintered magnesia and chromite. The purity of the magnesia raw material should be as high as possible. The requirements for the chemical composition of the chromite ore are: Cr2O3: 30-45%, CaO: ≤ 1.0-1.5%.
Magnesia-chrome bricks are generally produced from sintered magnesia and refractory grade chrome ore. The refractory grains are silicate-bonded. The domestic magnesia-chrome bricks generally refer to ordinary magnesia-chrome bricks that are fired. Chrome bricks.
Magnesia chrome brick has a refractoriness of more than 2000 ° C, and the load softening temperature is generally above 1550 ° C. The high temperature volume stability is good, and the resistance to rapid cooling and heat is stronger than that of magnesia brick.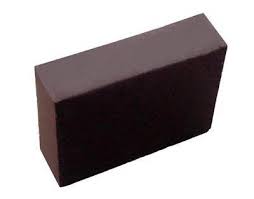 Sunrise refractory magnesia chrome bricks are mainly used in metallurgical industries, such as the construction of open hearth furnace roofs, electric furnace tops, furnace refining furnaces and various non-ferrous metal smelting furnaces. The high temperature part of the ultra high power electric furnace wall is made of fused cast magnesia chrome brick. The high erosive area of the refining furnace outside the furnace is made of magnesia chrome brick made of synthetic material. The high erosive area of nonferrous metal flash smelting furnace is made by melting cast magnesia chrome brick and synthetic material. Magnesia chrome bricks.
In addition, magnesia-chrome bricks are also used in cement rotary kiln firing zones and glass kiln regenerators.
Inquiry:
If you have any questions or good suggestions on our products and site, or if you want to know more information about our products, please write them and send to us, a representative will contact you within one business day. We guarantee that your information will not be divulged to the third party.