What steps are required for magnesium brick construction?
Date:
2019-03-01 16:54
From:
Zhengzhou Sunrise Refractory
Author:
admin
Magnesia bricks have high refractoriness, good alkali slag resistance, high load softening start temperature, but poor thermal shock resistance. The sintered magnesia brick is made of brick and magnesia brick, and after being pulverized, compounded, kneaded and formed, it is fired at a high temperature of 1550 to 1600 ° C, and the firing temperature of the high-purity product is above 1750 ° C. The non-casting magnesia brick is made by adding a suitable chemical binder to the magnesia, mixing, forming and drying. According to the experience of producing magnesia bricks, Magnesia Brick Company has made the following provisions for refractory brick masonry in order to make full use of kiln lining materials, ensure the service life of kiln lining materials and prolong service life:
1. Carefully clean the dust and slag from the inner wall of the kiln shell;
2. there should be no unevenness in the kiln shell; +
3. The gray joint between the magnesia brick and the brick is controlled at 1.5mm~2mm;
4. the application of the glue should be even and full, do not have the phenomenon of lack of pulp. Uniformly apply the cement, and use the masonry to shake the cement to make the cement can be extruded in a small amount;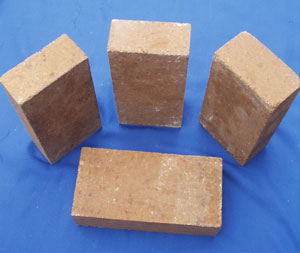 5. the lining of the kiln should be flat and can not have a wrong platform, stress to avoid misalignment, tilt, uneven gray seam, centering, heavy seams, through seams, open mouth, empty, crevices, serpentine bends, masonry bulging And common problems such as mixing;
6. The expansion joints in the refractory brick lining must be designed as designed and must not be missed;
7. The lining of important parts and complex parts of magnesia bricks should be pre-layed first;
8. the lock seam should be firm. When processing refractory bricks, the bricks should be finely processed with a brick cutting machine. Manually processed bricks should not be used; the top bricks of the magnesia bricks in the rotary kiln and under the bricks should be no less than 70% of the original bricks; The curved bricks shall not be less than 1/2 of the original bricks. Must be locked with the original brick. The machined surface of the brick should not face the inside of the furnace.
Inquiry:
If you have any questions or good suggestions on our products and site, or if you want to know more information about our products, please write them and send to us, a representative will contact you within one business day. We guarantee that your information will not be divulged to the third party.