Magnesia Chrome Brick -- your best choice
Date:
2019-02-20 17:00
From:
Zhengzhou Sunrise Refractory
Author:
admin
Magnesia Chrome Brick is a kind of basic refractory material with more than 90% magnesium oxide content and periclase as the main crystal phase, which has excellent properties of high refractoriness, high temperature strength, good thermal shock resistance and strong basic slag erosion resistance and is mainly used for steelmaking basic open-hearth furnace, electric furnace bottom and wall, permanent lining of oxygen converter, non-ferrous metal metallurgy furnace, high-temperature tunnel kiln, lining of rotary kiln, furnace bottom and wall of heating furnace, regenerative chamber of glass furnace and etc.
Sunrise refractory magnesia chrome brick, a kind of refractory material, is made of magnesite and chromium concentrate as the main raw material, molded through high pressure and fired in the high temperature.
Heat-resistance temperature of Magnesia Chrome Brick: The maximum allowed environment temperature is 1700℃. It has features of high strength, high refractoriness under load, high alkali erosion resistance and high thermal shock resistance under the load conditions of 1500~1650℃. Magnesia Chrome Brick has big advantages of environmental protection and long service life.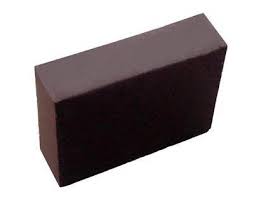 Direct Bonded Magnesia Chrome Brick is manufactured with quality magnesia and chromic oxide as the raw material, molded through high press and fired in the high temperature. It has features of large crystal and high direct bonding rate. The product has good cracking resistance and good acid slag erosion resistance with its low-alkaline property. Direct Bonded Magnesia Chrome Brick is the ideal lining brick material for finery out of furnace, electric furnace, glass furnace, melting furnace and rotary cement kiln.
Then, i will introduce sunrise refractory magnesia chrome brick properties:
High Refractoriness
High Temperature Strength
Strong Basic Slag Erosion Resistance
Good Thermal Shock Resistance
Interested? Welcome to send email to me get more information about our magnesia chrome brick. I am very glad to received your email.
Inquiry:
If you have any questions or good suggestions on our products and site, or if you want to know more information about our products, please write them and send to us, a representative will contact you within one business day. We guarantee that your information will not be divulged to the third party.