What Is Alkaline Refractory?
Date:
2015-09-29 19:12
From:
Zhengzhou Sunrise Refractory
Author:
admin

Alkaline refractory material refers to that which is easy to react with acid resistant materials, acid slag, acid flux or alumina under the high temperature. Most of the alkaline refractory materials are mainly made of magnesium oxide, calcium oxide and other alkali metal oxides. Alkaline refractory mainly contains magnesite chrome brick, magnesia zirconia brick, magnesia brick, magnesia spinel brick, magnesia calcium brick, dolomite brick and the latest development of magnesium iron spinel brick and so on.
Refractory bricks with Magnesium Oxide (MgO) containing more than 80% called magnesia brick which can be divided into many grades. Magnesia brick has good resistance to alkaline slag and slag, and has higher refractoriness than clay brick and silica brick. Magnesia brick is mainly used in open hearth furnace, oxygen converter, electric furnace, non-ferrous metal smelting equipment and glass industry as well as some high temperature equipment. Magnesia chrome brick has stronger resistant to alkaline slag, and the thermal shock stability is higher than that of magnesia brick, so the application is more extensive. Magnesia chrome bricks have almost replaced magnesia brick in iron and steel smelting and non-ferrous metal smelting industry. Magnesium calcium brick made from synthetic magnesia calcium sand as raw material, and calcium oxide content is generally in 15-30%, remaining components are mainly oxidized magnesium. Magnesia chrome brick is a refractory brick which is added aluminum spinel, an it is mainly used in cement industry rotary kiln, non-ferrous smelting furnace and garbage incinerator.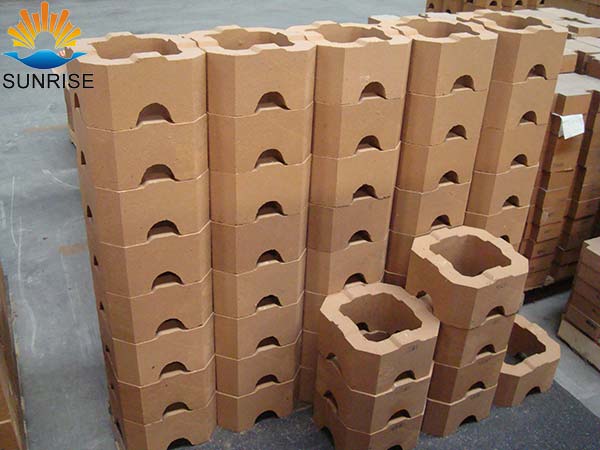 Appreciate for your visiting!
Zhengzhou Sunrise Refractory Co., Ltd. who is a professional glass refractory manufacturer is mainly engaged in the research and development of glass refractory products. With reliable quality, competitive price and prompt delivery, Sunrise has established long-term business and cooperation relationship with many customers in different countries and regions. Zhengzhou Sunrise Refractory Co., Ltd can provide professional guidance for you and is sincerely looking forward to establishing a long-term mutually beneficial relationship with you.
Inquiry:
If you have any questions or good suggestions on our products and site, or if you want to know more information about our products, please write them and send to us, a representative will contact you within one business day. We guarantee that your information will not be divulged to the third party.