High-Temperature Tunnel Kiln Of Refractory
Date:
2015-10-12 22:54
From:
Zhengzhou Sunrise Refractory
Author:
admin
Sintered kiln of refractory is usually divided into two types: Intermittent down-draft kiln and continuous tunnel kiln, the firing temperature is from 1200 to 1900`C, and even higher. If divided by firing temperature: temperature below 1350℃ is called low temperature sintering kiln; temperature between 1350℃ and 1550℃ is called medium temperature sintering kiln; temperature between 1550℃ and 1750℃ is called high temperature sintering kiln; temperature up 1750℃ is called ultra temperature sintering kiln.

Compared with down-draft kiln, the advantages of tunnel kiln are that: the quality of the products is good; Unit fuel consumption is low; long service life; High degree automation and low labor intensity. There are many kinds of tunnel kilns,however, they are usually consist of pre tropical, sintering zone and cooling zone. Meanwhile, according to the technical requirements of the burned products, through the attached combustion device, exhaust and cooling system, adjusting the kiln temperature, atmosphere and pressure, so that more excellent products can be obtained.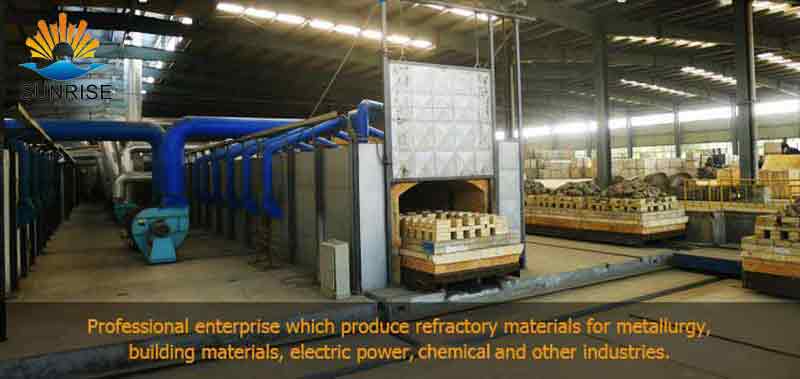 With the improvement of the quality of refractory materials and the increase of advanced refractory materials, burning temperature is generally increased which promotes the development of high temperature tunnel kiln and ultra high temperature tunnel kiln, so as to meet the requirements of technical progress of refractory. High temperature or ultra high temperature tunnel kiln is a new type kiln in the lastest twenty years which is mainly used for directly combined alkali brick, high temperature firing alkali brick, high alumina brick and corundum brick and other products. High temperature or ultra high temperature tunnel kiln adopts side heating burner whose fuel is high calorific value of heavy oil or natural gas.

Zhengzhou Sunrise Refractory Co., Ltd. is mainly engaged in the research and development of glass refractory products. Sunrise as a glass refractory manufacturer can provide professional before-after guidance and excellent products such as fused cast AZS block, fused cast alumina block, silica brick, magnesia brick, zircon brick, zircon mullite brick, mullite series brick, sillimanite brick, etc. contact us, we will do our best for you.
Inquiry:
If you have any questions or good suggestions on our products and site, or if you want to know more information about our products, please write them and send to us, a representative will contact you within one business day. We guarantee that your information will not be divulged to the third party.