Professional Fused Magnesium Bricks For Sale Manufacturer Supplier
Date:
2018-11-29 16:06
From:
Zhengzhou Sunrise Refractory
Author:
admin
Fused magnesium brick are alkaline refractory materials, the alkali slag has a strong resistance, but can not resist the erosion of acidic slag, at 1600 ℃ high temperature, and silicon brick, fire clay brick or even high alumina brick contact can react. MgO melting point of up to 2800 ℃, magnesium brick refractoriness above 2000 ℃.

In the furnace and the soaking furnace, the sunrise refractory fused magnesium bricks for sale are mainly used for paving the bottom surface of the furnace and the lower part of the furnace wall, which can resist the erosion of iron oxide skin. Magnesia refractories are magnesium and aluminum bricks, magnesia chrome brick, magnesium silicate brick and so on.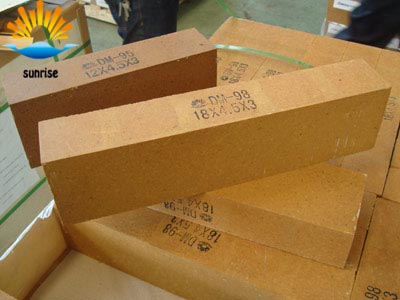 Sunrise refractory company in order to improve the thermal stability and high temperature strength of fused magnesium bricks for sale, industrial alumina powder be added into the ingredients to produce magnesium and aluminum bricks combined with magnesium spinel, which can be successfully used as high temperature furnace materials, There are parts of alkaline slag erosion. Sintered magnesia by adding different amounts of chromite, can be made of magnesia chrome brick, chrome magnesia brick. The furnace and the soaking furnace are sometimes used to separate the magnesia brick from the silica brick or fire clay brick to prevent these bricks from acting at high temperatures. Sunrise refractory fused magnesium bricks for sale in the steel industry occupies an important position, because we are according to the characteristics of China's major development of magnesium and high aluminum brick to product fused magnesium bricks.

Do you need fused magnesium bricks? Why not choice sunrise refractory company as your fused magnesium bricks supplier?
If you are worried about the sunrise refractory factory, which is not satisfy with your high requirement and remove you doubts, welcome to visit our factory & company, our professional technologists & designers waiting for you.
Inquiry:
If you have any questions or good suggestions on our products and site, or if you want to know more information about our products, please write them and send to us, a representative will contact you within one business day. We guarantee that your information will not be divulged to the third party.