The Performance and Useful of Magnesia Brick For Sale
Date:
2018-12-04 16:06
From:
Zhengzhou Sunrise Refractory
Author:
admin
The refractoriness of magnesia bricks is as high as 2000 ° C or higher, and the load softening temperature varies greatly depending on the melting point of the combined phase and the liquid phase produced at high temperatures. Generally, the load-softening start temperature of the magnesia brick is 1520~600°C, and the load softening start temperature of the high-purity magnesia brick can reach 1800°C. The starting temperature of the softening and the collapse temperature of the magnesia bricks are not much different from those of the silica bricks. This is because the main phase composition of the magnesia bricks is periclase, but the periclase crystals do not crystallize in the magnesia bricks.

The network skeleton is cemented by the conjugate. Therefore, the nature of the combination determines the high temperature structural strength of the magnesia brick. In ordinary magnesia bricks, the low-melting silicate phase such as calcium forsterite and magnesia is generally used as a combination. Although the calcite crystals constituting the magnesia have a higher melting point, they start to melt at around 1500 °C. The silicate phase exists, and its liquid phase has a low viscosity at high temperature.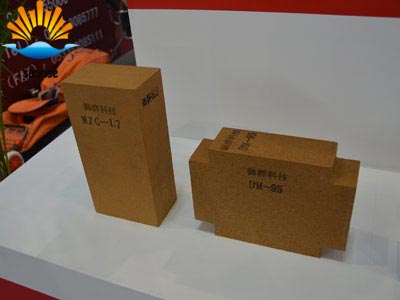 Therefore, it reflects that the load temperature of the ordinary magnesia brick is not much different from the collapse temperature, but it is quite different from the refractoriness. The high-purity magnesia bricks have a load-softening start temperature of up to 1800 ° C, mainly because the combination of the periclite grains is forsterite or dicalcium silicate, and its eutectic fusion with MgO The melting temperature is high, the character strength between the crystals is large, and the plastic deformation at high temperatures is small, and the crystal particles are well combined.
Magnesia brick is widely used in steelmaking lining, iron alloy furnace, mixed iron furnace, nonferrous metallurgical industrial furnace, building material lime kiln, glass industrial regenerator lattice and steel because of its high temperature performance and strong resistance to alkaline slag. High temperature calcining kiln and tunnel kiln for heat exchanger and refractory industry.
Inquiry:
If you have any questions or good suggestions on our products and site, or if you want to know more information about our products, please write them and send to us, a representative will contact you within one business day. We guarantee that your information will not be divulged to the third party.