Application of sunrise refractory Magnesia Chrome Brick for sale
Date:
2019-02-13 15:10
From:
Zhengzhou Sunrise Refractory
Author:
admin
Magnesia Chrome Brick for sale in sunrise refractory is mainly used in metallurgical industry, such as for building open-hearth furnace top, electric furnace top, finery out of furnace and all kinds of non-ferrous metal metallurgy furnace.
Fused cast magnesite chrome brick is adopted for high temperature position of furnace wall in electric furnace with ultra high power.
Magnesia chrome brick that made of synthetic compost is adopted for strong erosion area in finery out of furnace.
Fused cast magnesite chrome brick or magnesia chrome brick that made of synthetic compost is adopted for strong erosion area of nonferrous metals flash smelting furnace.
Besides, Magnesia Chrome Brick also can be used for burning zone in rotary cement kiln and regenerative chamber in glass furnace.
Production Process of sunrise refractory magnesia chrome brick
Production process of firing magnesia chrome brick is similar with magnesia brick. To eliminate the loose effect of brick in the firing process that result from expansion when generate spinel caused by the ferrous oxide reaction of MgO and Cr2O3, Al2O3 or Direct Bonded Magnesia Chrome Brick. Magnesia chrome brick also can be made of composite common sintered material.
Besides, there is also unfired magnesite-chrome brick, such as unfired magnesite-chrome brick made of inorganic magnesium saline solution combination. It has properties of simple manufacturing process, low cost and good thermal shock resistance. But its high temperature strength is not nearly so as burnt brick.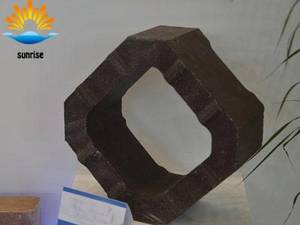 Direct bonding of high temperature phase of periclase and spinel and distribute isolated island-liked distribution of low melting phase of silicate make that Direct Bonded Magnesia Chrome Brick has features of pure raw material, high firing temperature, high temperature strength and slag erosion resistance.
Use fines that made of chromium minerals and magnesia together to grind pressed shape, which is effective action to eliminate loose effect.
Magnesia chrome brick made of this method compares with common magnesia chrome brick, its apparent porosity is low, compression strength, refractoriness under load and bending strength is higher.
Magnesia Chrome Bricks made of synthetic magnesia chromite clinker through firing in the high temperature and pressed shape with chromium minerals and magnesite have better slag erosion resistance and high temperature strength.
Do you want to find some Magnesia Chrome Bricks? if you have no ideals about how to choice best Magnesia Chrome Bricks, why not consider our sunrise refractory? If you want to buy our Magnesia Chrome Bricks or have any questions about Magnesia Chrome Bricks or other refractory bricks, you can connected with us when you are free. Our sunrise refractory are looking forward to your letters.
Inquiry:
If you have any questions or good suggestions on our products and site, or if you want to know more information about our products, please write them and send to us, a representative will contact you within one business day. We guarantee that your information will not be divulged to the third party.