Refractory castable for refining outside the furnace
Date:
2019-11-22 16:09
From:
Zhengzhou Sunrise Refractory
Author:
admin
Sunrise Refractory Group has been engaged in the research and production of refractory materials for many years and has a lot of history and experience. Today, sunrise Refractory Materials introduces the categories and introductions of refractory castables for refining outside the furnace.
(1)Refractory castable for RH furnace. A small amount of high alumina castable and aluminum-magnesium castable are used in the RH furnace lining. The upper part of the RH vacuum chamber is integrally lining or sprayed with Al2O3-MgO·Al2O3 castable. The outer wall of the RH furnace immersed tube is cast with an integral aluminum-magnesium.
(2) Refractory castable for LF furnace. The materials used in the curtain wall of the LF furnace cover are mainly high-aluminum or corundum series castables. In the bottom impact zone, high-alumina-spinel refractory castables are used to cast large bricks.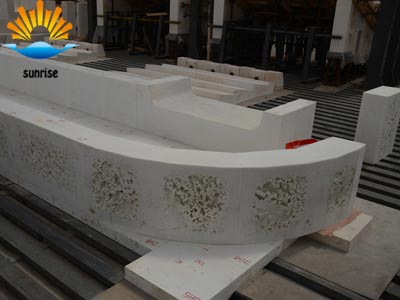 (3) Refractory castables for CAS refining equipment. The CAS refining device is divided into upper and lower parts. The refractory materials used are all castables; the upper part is mostly made of low-expansion Al2O3-SiO2 castables. In the lower part, the corundum-spinel series castables with MgO ultrafine powder added by fused corundum are used. In the later stage, the service life of the device is extended, and the magnesia-aluminum spray material is used.
(4) Refractory castable for ladle. The varieties of refractory castables for ladle mainly use aluminum-magnesium castables and aluminum-magnesium spinel castables.
The refractory castables used according to the type of ladle are classified into three grades. Large ladle uses castables as high-grade castables, and plate-like corundum and spinel are generally used as the main raw materials. The castables for neutral ladle are mid-range castables, and fused brown corundum and spinel are generally used as the main raw materials. The castables used in small ladle are low-profile castables, and special grade alumina and mid-range sintered magnesia are generally used as the main raw materials.
Inquiry:
If you have any questions or good suggestions on our products and site, or if you want to know more information about our products, please write them and send to us, a representative will contact you within one business day. We guarantee that your information will not be divulged to the third party.