Cr6+ Pollution of Magnesia Chrome Bricks
Date:
2016-08-22 17:07
From:
Zhengzhou Sunrise Refractory
Author:
admin
Compared with titanium and vanadium in the same period, chromium has a higher positive charge and smaller radius of 0.052nm. No matter in crystals or solutions, there is no any simple Cr6+, but Cr6+ is always present in the form of oxides and oxygen acid.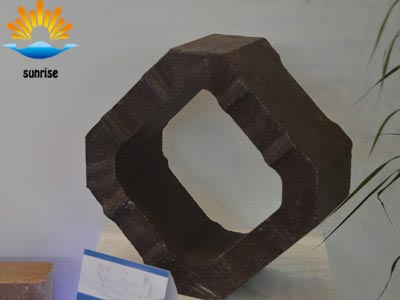 CrO3 is the anhydride of chromic acid, known as chromic anhydride. Its melting point is less than 200℃. Cr6+ is an oxidizing agent. it can pollute the environment and do harm to humans' health.
Alkaline medium (potassium, sodium, calcium, etc.), high oxygen pressure and suitable temperature are an important condition to generate Cr6+.
In a neutral atmosphere, CaO-Cr2O3 materials have high melting points. CaO·Cr2O3 has two variants: α and β and has a melting point of 2170℃. There are no Cr6+ compounds generated. In the air, from 1228 ℃ to 808 ℃, three Cr6+ compounds are successively formed: 9CaO·Cr2O3·4Cr2O3, 3CaO-2Cr2O3·2Cr2O3 and CaO·Cr2O3. Oxygen Pressure plays an important role in the generation of CaO-Cr2O3-based material. In alkaline medium, Cr6+ salt is most likely to form K2Cr2O7 (potassium dichromate, commonly known as potassium dichromate) and Na2Cr2O7 (sodium dichromate, commonly known as sodium dichromate). Both are strong oxidants, corrosive and toxic.
1.
The formation of Cr6+ during the manufacturing process of magnesia chrome bricks
Raw materials for manufacturing magnesia chrome brick: magnesia and chrome ore free of Cr6+. Chrome green (Cr2O3) and fused magnesia chrome sand contain Cr6+. So when crushed and ground fused magnesia chrome sand and chrome green are added, pay attention to the Cr6+ pollution.
If binders containing Na+ and K+, such as alkaline pulp waste, sodium silicate and sodium phosphate, Cr6+ salt may be formed after firing.
When the excess air ratio is too large, the content of Cr6+ is high.
2.
The formation of Cr6+ during the use
In a reducing atmosphere during steelmaking, oxygen pressure does not increase the Cr6+ content of magnesium chrome bricks. When there is too much heat medium (calcium, sodium, and potassium), Cr6+ increases dramatically. Magnesia chrome brick containing too much Cr6+ cannot be placed in the open environment. Magnesia chrome waste bricks containing low content of impurities can be used to produce low-grade magnesia chrome bricks.
Inquiry:
If you have any questions or good suggestions on our products and site, or if you want to know more information about our products, please write them and send to us, a representative will contact you within one business day. We guarantee that your information will not be divulged to the third party.