The five performances of Magnesia Brick
Date:
2016-08-26 17:39
From:
Zhengzhou Sunrise Refractory
Author:
admin
1. Chemical component and mineral composition
The chemical component of magnesia brick and varies with the raw materials composition.
General magnesium oxide is 55% ~ 60%, the amount of chromium trioxide is about

10%, followed by ferric oxide and a small amount of oxide such as
two aluminum dioxide aluminum, silica, calcium oxide and other impurities.
The mineral composition of magnesia brick is mainly magnesium chromium spinel acid magnesium ferrite.
2. Because periclasecontent of
magnesia brick
is less than magnesia brick, magnesia chrome spinel and magnesium ferrite content is much , and their melting point of eutectic
compounds is lower, so the refractoriness of magnesia chrome brick magnesia brick is low, usually only 1850 ~ 1960 ℃.
3. Refractoriness under load
Periclase crystals of magnesia brick and magnesia chrome spinel is easy to form a mesh skeleton, by filling in the Internet clearance of low melting point no quality is less, when
bear high temperature load, while the low melting point material softening, but mesh skeleton still can support the load, so the magnesia brick of refractoriness under load is high,
average more than 1550 ℃.
A little lower than magnesia brick refractoriness, and refractoriness under load is higher than magnesia brick is a significant characteristic of

magnesia chrome brick.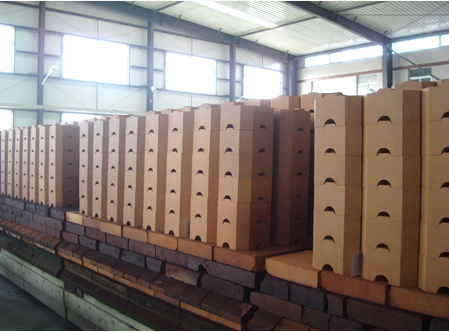 4. Thermal expansion and thermal shock resistance
Magnesia chrome spinel of magnesia brick and magnesium ferrite content is much and linear expansion coefficient is small, at the same time, the porosity of magnesia chrome
brick is larger than magnesia brick, so, heat dilatability of magnesia chrome brick is small.
Monticellite content in magnesia brick is few, is not easy to cause differential expansion stress.
Magnesium ferrite solid soluble in magnesia chrome spinel, solubility temperature

range is very wide, Magnesium ferrite into and precipitation, not make a big stress, therefore, magnesia chrome brick has good thermal shock stability, water-cooled frequency

can be up to among 25 times.
5. The slag resistance
The most content of magnesia chrome spinel in magnesia brick is compound of magnesium oxide and chromium trioxide, and chromium trioxide is a typical neutral oxide,
therefore, magnesia brick of alkaline and acidic slag has strong ability of resistance.
Inquiry:
If you have any questions or good suggestions on our products and site, or if you want to know more information about our products, please write them and send to us, a representative will contact you within one business day. We guarantee that your information will not be divulged to the third party.